W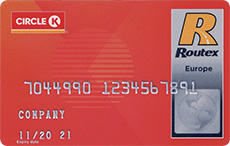 ith the Circle K EUROPE card you can refuel in 29 countries. Fuel prices vary widely from country to country, so we collect diesel prices for you from across Europe every week. This can help our customers plan their schedules to save significant costs by fuelling in countries that offer them the best value.
There are two main models for fuel pricing in Circle K networks in Europe:   
- Pump price - customers are charged the price displayed at the individual stations. We show these prices as "Average price in country" (note: in some cases, the price at a specific station or region is identified).   
- List price - a fixed diesel price for all customers. The advantage of this model is that drivers don't have to spend time searching out the lowest prices, as everyone is charged the fixed list price. List prices are usually set for one week and are available online (see the links in the Price Guide below).

Please follow the links to retrieve the historic list prices for Diesel, Motor Spirit and other Fuels published by Circle K.
Country
Actual DIESEL LIST price today, in local currency, including all taxes
LIST price history
Read more (links to local web portals)
Latvia
Download excel
Latvia
Lithuania
Download excel
Lithuania
Estonia
Link
Estonia
Norway**
Norway
Sweden
Download excel
Sweden
Denmark
Link  
Denmark
    
Country
Pump price, including all taxes
Comment
Read more (links to local web portals)
Poland
Average price from previous week
Poland
Russia
Price in Pskov region- Псковская область
Russia


Country
DIESEL LIST price today, in local currency, exclusive VAT
National roads
Motorways
Germany ARAL/BP
price per 100 liters in euros
** Please note that transport cost for diesel and petrol is added to the fuel list price in Norway. Transport cost for petrol and diesel is different for each site. Please
download the current list of transport cost
for our sites for details. Furthermore, there is an additional transport cost charged for purchases of fuel at sites that are not part of  HTN, our recommended truck sites.
vatservice.dk